Netherlands may not be on your mind when planning a beach holiday, however there are many great beaches just a train drive away from this iconic city. The rugged coastline is quite spectacular and well worth taking advantage of, opposed to using all of your time up in just the city itself. Strand Zuid beach in Amsterdam is situated between Beatrixpark and the Amsterdam RAI exhibition centre. True, it's a man made beach centre, but it offers over 6,600 square feet of luxury. If sipping cocktails and lounging is not your thing, then fear not. Strand Zuid has abundant loungers and hammocks and plenty of activities aimed towards children. There's a fun volleyball court for when you're feeling more energetic, too.
Amsterdam's iconic city
All that said, Amsterdam is indeed a city full of interesting places to visit. Thus, it is known as the city of bikes, canals and museums. I have to admit that Amsterdam is one of my favorite cities in Europe and I think it makes the perfect weekend getaway. This multicultural and tolerant city, where you're made to feel welcome from the first step, is perfect for a trip of artistic and architectural discoveries. From Anne Frank to Van Gogh, within its museum district, you will soon find plenty of European art to enjoy.
Sounds interesting? Here's a short but most valuable list of what you don't want to miss when in Amsterdam.
Amsterdam's Canals
Of course, Amsterdam is still a city of postcards, largely thanks to its 400-year-old canals which are spanned by a multitude of bridges, even more numerous than in Venice. The Singel was the moat which surrounded and protected the medieval city. Other canals like Herengracht, Keizersgracht and Prinsengracht, which run their course outwards, were part of an architectural plan to renew the city when it experienced its Golden Age.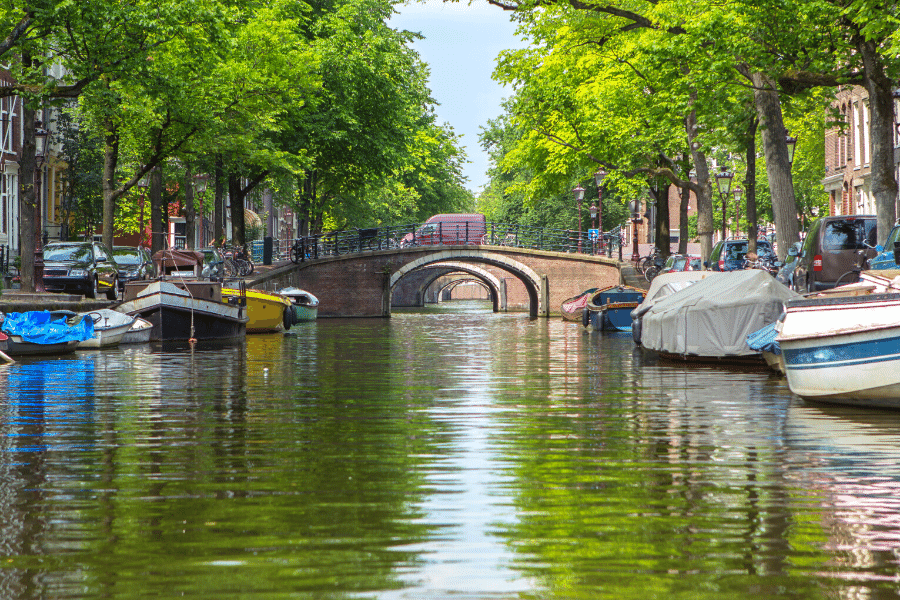 Amsterdam's Floating Flower Market
When we think of Amsterdam, images like clogs, Netharland's tulips, cheese and of course windmills may still come to us spontaneously. But beyond the clichés, you will find extraordinary sites.
The Bloemenmarkt is Amsterdam's famous floating flower market and one of the most memorable places to see when visiting Amsterdam. This market is located next to the Singel Canal. Surprisingly, it is built on the water, which is not easy to perceive at first glance.
Netherlands tulip fields
On the subject of Netherlands tulip fields, while these are abundant in Holland, they are certainly an iconic beauty. If you have limited time in Amsterdam and happen to miss the abundant and vivid colours of the tulip fields in Netherlands, you may still enjoy the Tulip Festival which is held once a year.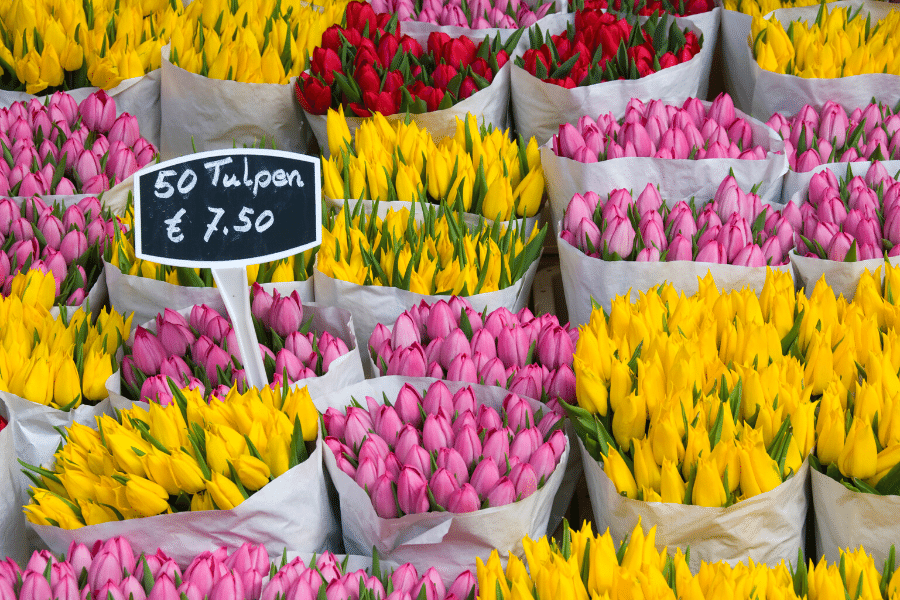 Zaanse Schans Museum
Just outside the city, you will discover the Zaanse Schans Museum. Zaanse Schans is a museum dedicated to the history and symbolism of the clog, and also introduces you to other world-famous pieces of Holland. Holland's fascinating windmills, industries and pretty green wooden houses are all part of the museum's journey. The adventure takes you from the very first windmills to the newest factories.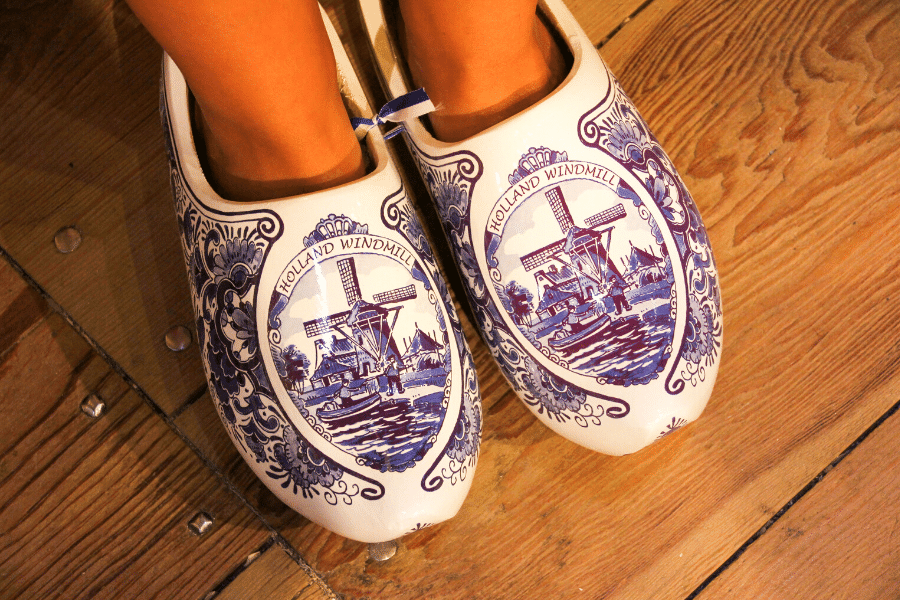 Van Gogh Museum
The Van Gogh Museum houses a most extensive collection, with some of the best works of the brilliant Dutch painter. The museum has more than 200 paintings and 400 drawings by Van Gogh from different eras. You will then find "La chambre d'Arles", "The dining rooms with potatoes" and of course "The sunflowers". Van Gogh's work is said to still have a great influence on modern art due to its striking colours and emotional inspiration.
Having the audio guide may help you pick up much more background about the history and details of his life and work. Likewise, another good option is to book this guided tour with an art specialist. This will be even more memorable ,helping you to make the most of one of Amsterdam's most visited places.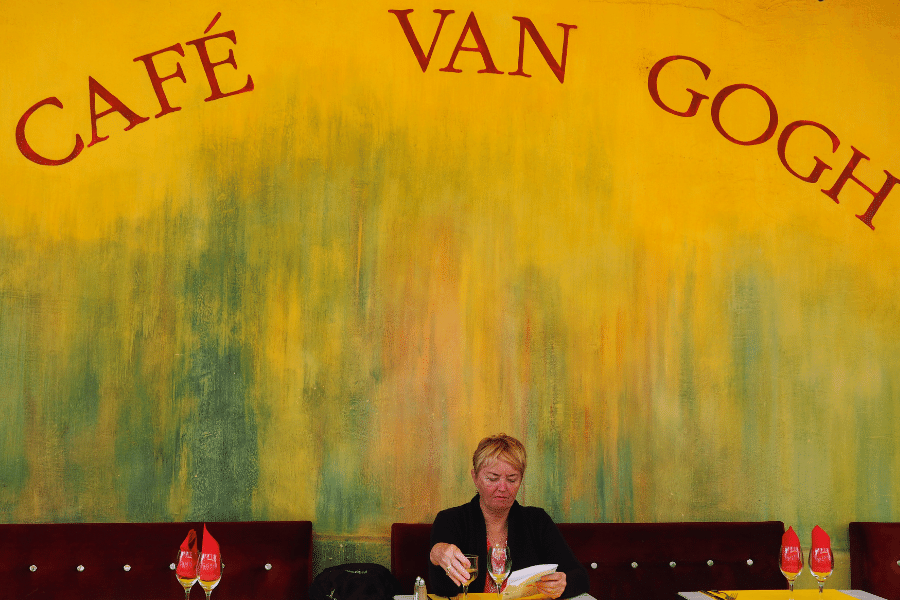 Picnic at Vondelpark
For a perfect picnic, don't hesitate to take your blanket, lunch and wine to the Vondelpark. It is the largest green space in the capital and it owes its name to the poet Joost van den Vondel (1587-1679).
The park is also a kind of cultural centre, as it houses several remarkable statues, including one of Picasso. From June to September you can enjoy music, dance performances and many other types of children's activities in the park.
Terschelling beach
This one is a bit different from other Dutch beaches: Terschelling is actually an island. It may be a good distance from Amsterdam, but you did need proof that there really are nice beaches in the Netherlands right? The water and the beach are impeccably clean, and you can easily find a free place to soak up the scenery. As there are some great cycle lanes just outside of the beach, some visit Terschelling simply to explore the beautiful islands of the Dutch Wadden region by bicycle. What's great is that you can easily get to the island on the ferry from the neighboring island of Vlieland. You can take a ferry ride to Terschelling directly from the interesting harbour town of Harlingen, too, which is on the coast of Wadden Sea.
If you fancy doing very little but prefer to relax, then the island will be an ideal spot for doing just that. The atmosphere on the island is superb, and its a perfect place for a little tranquility.