This comprehensive guide delves into the practical and engaging world of UK transport and travel options within the United Kingdom. Whether you're a history buff, a nature lover, or have ever wondered about Great Britain's logistic network, we've got you covered with our practical transport guide that traverses the diverse and enchanting landscapes of Great Britain.
Railways: The Backbone of British Travel and UK Transport
The British rail system is a marvel of engineering and an excellent way to see the country's scenic beauty. From 1830 to 1870, an extensive network of railways was constructed throughout the British Isles, covering over 7000 miles of rail track in England and Scotland by 1852. With rail communication established in every significant centre, Britain's landscape was transformed physically and culturally. The construction of this vast network of railways facilitated the transportation of goods and people efficiently, enabling the country's industrial and economic growth. The railways were constructed with a gauge of 4 feet, eight and a half inches, and were powered by steam engines, which powered the locomotives that ran on these tracks. Since the early 19th century, Great Britain's railway network has been deployed to various types of UK transport and volumes of goods.
The vast network connects cities, towns, and picturesque countryside. Some sight seekers and travellers start their leisurely journey with the historic London Underground, the Tube. Then, explore the iconic British countryside with memorable train journeys like those taken on the West Highland Line or the Jacobite Steam Train, featured in various famous movies.
Buses: Budget-Friendly Explorations
For those travelling on a budget, buses are a practical option. National Express and Megabus offer extensive networks that link cities and towns across the UK. It's an affordable way to explore regions outside major cities and enjoy the rural charm of the British countryside. For the adventurous traveller, hop on the open-top double-decker buses in London to enjoy a sightseeing tour with panoramic views.
Driving: Still One Of The Most Common and Direct Forms Of UK Transport
Driving a car or van may be your best bet if you're keen on exploring off-the-beaten-path locations. The UK offers well-maintained roads and scenic routes, such as the North Coast 500 in Scotland or the Cotswolds in England. Just remember to drive on the left side of the road, and that parking in city centres can be a challenge, so plan accordingly.
Cycling: A Leisurely Perspective
Cycling enthusiasts can enjoy many options while exploring the beautiful landscapes of England and Scotland. England offers many cycling routes, including the famous Devon Coast-to-Coast and Hadrian's Cycleway. The Peak District, Camel trails Cornwall, and the Yorkshire Dales National Parks are also popular among cyclists, offering challenging and scenic routes.
In Scotland, the options are no less impressive. From the famous Loch Ness 360° route to the stunning North Coast 500, Scotland has something to offer for every type of cyclist. The Isle of Skye and the Scottish Highlands are known for their breathtaking scenery and challenging terrain.
No matter your route, cycling in England and Scotland is a unique way to experience these countries' natural beauty and rich history. With many options available, from easygoing trails to challenging mountain routes, you will find a cycling adventure that suits your experience and interests.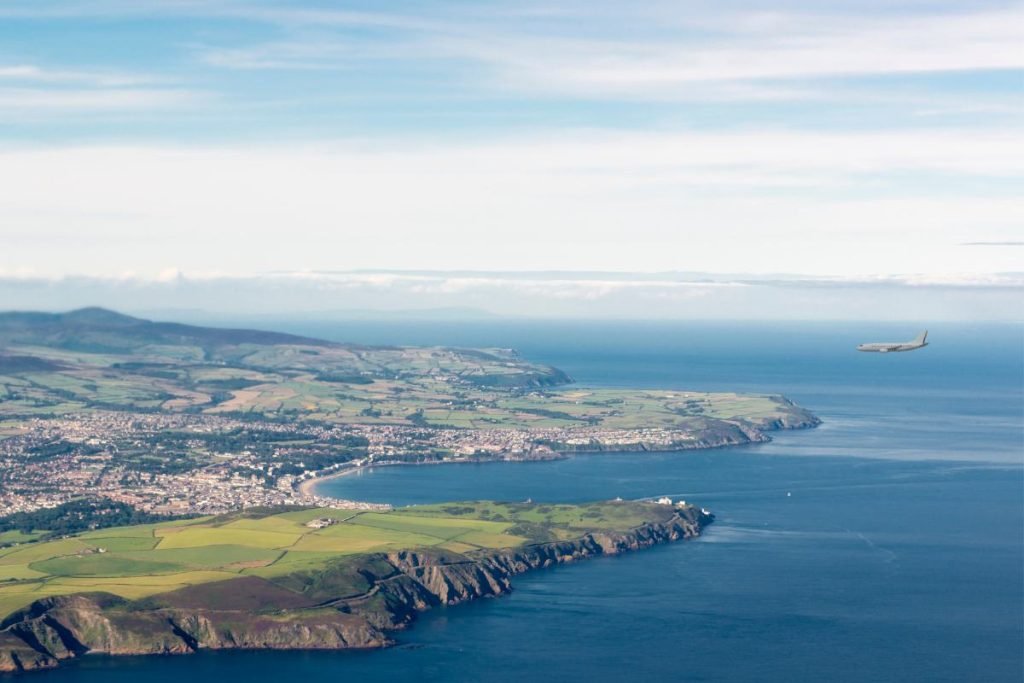 Air Travel: Island Hopping
Domestic flights can be a time-saving option if you're looking to explore the stunning landscapes of Scotland, Wales, and Northern Ireland. From the Orkney Islands to the Isle of Man, flying between these picturesque destinations can maximize your time and minimize travel stress.
Ferry Transportation
Ferry transportation in Great Britain is essential to the country's transportation infrastructure. With a vast network of ferry routes, travelling by ferry is a popular and convenient way to explore the country's many coastal towns, islands, and tourist destinations. Ferries connect Great Britain to other parts of Europe, including Ireland, France, and the Netherlands, making it a gateway to the continent.
The most popular ferry routes in Great Britain are Dover to Calais and the routes connecting Holyhead in Wales to Dublin and Dun Laoghaire in Ireland. These routes are served by several ferry operators, including Stena Line, P&O Ferries, and Irish Ferries, offering a range of services from budget to luxury. Passengers can choose between different classes of travel, including economy, standard, and premium, and a range of onboard amenities, including restaurants, bars, and duty-free shopping.
Apart from the international routes, several domestic ferry routes connect various parts of Great Britain. These routes are popular among tourists and locals alike, as they allow exploring the country's beautiful coastal towns and islands. The Scottish islands, including the Outer Hebrides, Orkney, and Shetland, are particularly well-served by ferry routes.
Overall, ferry transportation in Great Britain offers a unique and enjoyable way to travel. With comfortable onboard accommodations, a range of amenities, and stunning views of the coastline and islands, it's no wonder that ferry travel is a popular choice for tourists and locals alike.
Courier Transportation in Great Britain
With the constant increase in online shopping and variations in customer behaviour, swiftly meeting customer demands within short periods is becoming a challenge to several businesses within larger cities. Courier services in England are well-developed and offer various methods of transport to cater to different needs. Whether you need to send a small package across town or transport large cargo across the country, reliable courier options are available. Let's explore the methods of transport commonly used by courier services in England:
Road Transport:
Vans and Small Trucks: This is the most common method for local and regional deliveries. Courier companies often use vans or small trucks for transporting packages within cities and towns.
Larger Trucks: For more oversized cargo or long-distance transport, London, Manchester and courier services Sheffield based, may employ larger trucks or lorries. These are often used for intercity and cross-country deliveries.
Motorcycles and Scooters: In congested urban areas, motorcycles and scooters are preferred for quick and efficient deliveries. They can navigate through traffic and reach their destinations faster.
Air Transport:
Air Freight: For extremely time-sensitive or long-distance deliveries, air freight services are used. England has a well-connected network of airports, such as London Heathrow, Gatwick, Manchester, and Birmingham, which handle cargo and parcel deliveries.
Rail Transport:
Rail Freight: Some courier companies utilise the extensive rail network in England to transport goods quickly and efficiently over long distances. This is often a more sustainable and cost-effective option for certain types of cargo.
Sea Transport:
Container Shipping: Sea transport in container shipping is a viable option for international deliveries, especially to and from island regions like the Channel Islands. Ports like Dover, Southampton, and Felixstowe are significant gateways for container shipping.
Bicycle Couriers:
Bicycle couriers are famous in congested urban areas, especially in cities like London. They can quickly navigate traffic and deliver small packages, documents, or food deliveries.
On-Demand Delivery Services:
In recent years, on-demand delivery services have gained popularity. These services often use a combination of cars, bicycles, and even foot couriers to provide fast and flexible delivery options for businesses and individuals.
Same-Day and Next-Day Deliveries:
Many courier companies in England offer same-day and next-day delivery options for those who require expedited services. These services typically involve vans or dedicated vehicles to ensure timely delivery. The four largest cities in England; London, Birmingham, Liverpool and Manchester, all benefit from an abundant network of A roads and motorways. Same day couriers in Birmingham also benefit from the famous Gravelly Hill Interchange, more commonly known as Spaghetti Junction. This junction lies at junction 6 of the M6 motorway in Birmingham known for its unique, long pasta-like appearance. It was Britain's first free-flowing interchange without traffic lights or any roundabouts.
Specialised Transport:
For delicate or specialised cargo, courier services may have access to temperature-controlled vehicles, secure transport for valuable items, or refrigerated transport for perishable goods.
International Courier Services:
For international shipping, courier companies often have partnerships with global carriers and utilise air, sea, and road transport, depending on the destination and urgency of the delivery. Whether a swift local delivery or a secure international shipment, England's courier services have an excellent reputation. It offers a comprehensive range of transport methods to ensure packages and cargo reach their destinations efficiently and reliably.
Great Britain's Famous Transport Options
Great Britain presents an array of transportation choices tailored to the discerning traveller or for business purposes. Whether their pursuit is in the realm of delivery logistics or leisurely exploration, for those with a penchant for history, a passion for the natural world, or a curiosity that fuels their journey, this diverse land offers meticulously curated modes of transportation, each attuned to your specific requirements.