Fortunately there are now more and more beaches in Spain that have been awarded the blue flag of quality. (In fact, well over 500 beaches) Some of the best beaches in Europe, can be found in the country, in my opinion. Maybe you have heard of some of the popular Costas such as; Costa Blanca, Costa Brava, Costa del Sol, Costa Dorada or even Costa Verde, all having an abundance in returning visitors, year after year. Maybe you have been to the Balearic Islands or the Canary Islands and seen for yourselves the amazing well look after coastline and attractive scenery? But did you know that there are more than 5,000 miles of Spanish coastline, and a seemingly endless array of magnificent beaches?
Having such abundant strips of sand to choose from, I decided to add a selection of some of the best Spanish beaches for families and children.
One of the best beaches in Mallorca
My first beach to mention is a family favourite called Platja de Muro Mallorca, or Majorca as some like to spell it. This is one of the best and safest beaches in Alcudia according to the local council. It claims to have the most advanced life-saving equipment on the island. Moreover, its gentle waves and clear shallow water really do enhance this pretty beach.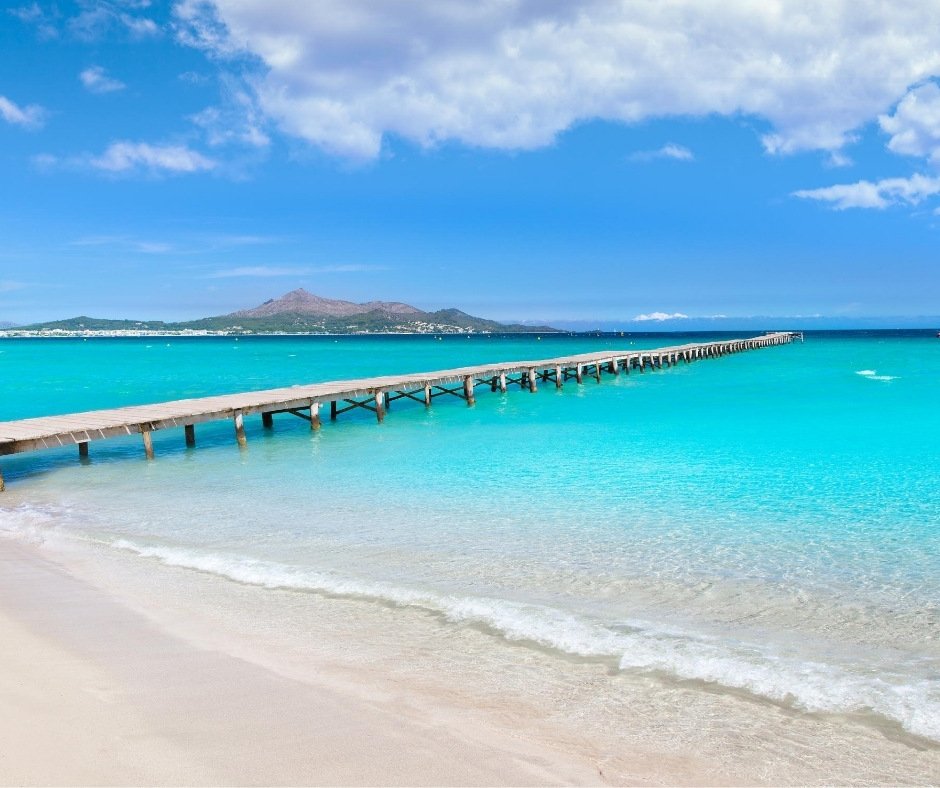 Second best beaches in Mallorca
My second favourite beach in Mallorca is Playa Canyamel. This is a small resort that is mainly about a simple beach holiday with charming provincial character. The picturesque atmosphere of Canyamel has long attracted families and those seeking peace and quiet. Its shallow water often creates more of a rippling effect on the shore rather than experiencing consistent, powerful waves. The sea in this region is the very essence of beauty with its crystalline turquoise hues that glisten and glow in the sun's rays. The journey to Canyamel is usually directly from Palma airport by taxi, bus or hire car. In fact even the one hour journey by car is a most pleasant experience, as you try and absorb some of nature's best scenery. The short distance to tourist places, such as Cala Millor, also makes the resort very sought after location for holidaymakers.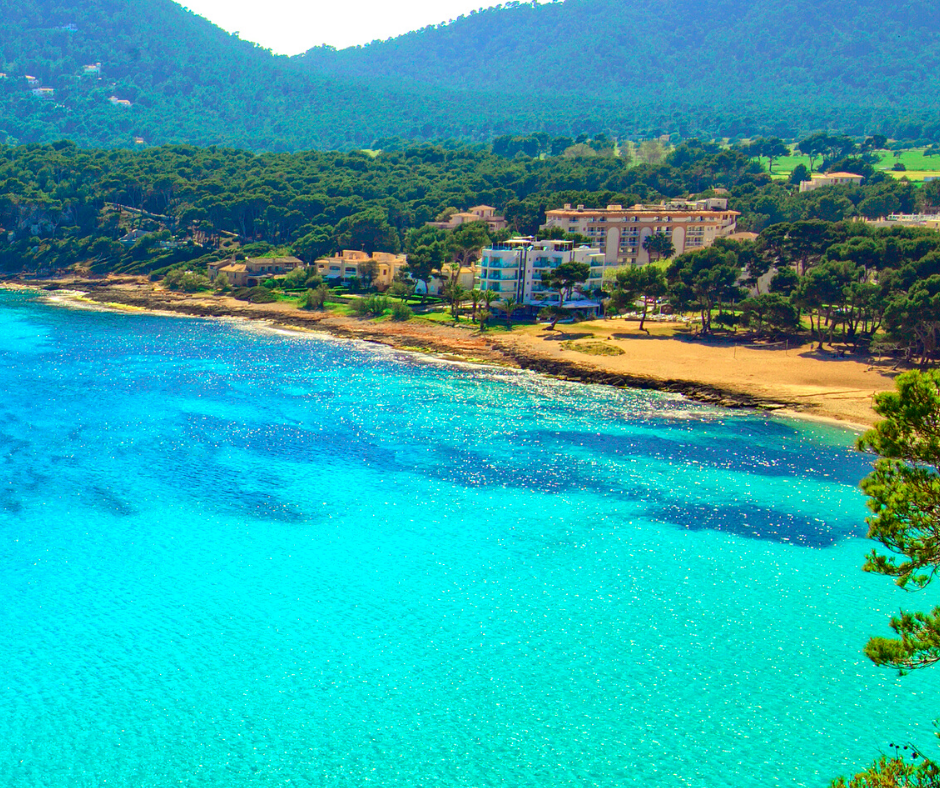 Whichever region you visit for a holiday, you'll find clean, well maintained sandy beaches and with easy accessibility. Spain have their own quality standards to meet and maintain including the Q' Quality Award Certification which is awarded by the Spanish Tourism Quality Institute (ICTE).
Marbella, Malaga, in particularly Torrox and Fuengirola, also have their abundance of high-quality beaches. Puerto Banus in Marbella, for example, is one such beach and is probably the most popular coast on the Costa del Sol. The water is lovely and clear and very shallow meaning you'll feel safer about letting the little ones have a paddle and splash about. Here you won't find any rocks in the sea and there are some fascinating coves that prevent big waves coming into the shore.
Favourite Costa del Sol family-safe beaches
Fuengirola
Close to all the attraction on the Costa del Sol, Fuengirola is the perfect place to stay put or as a base for your Spanish holiday. With over 7 kilometres of beach to select from, you will never feel overcrowded even during the high season.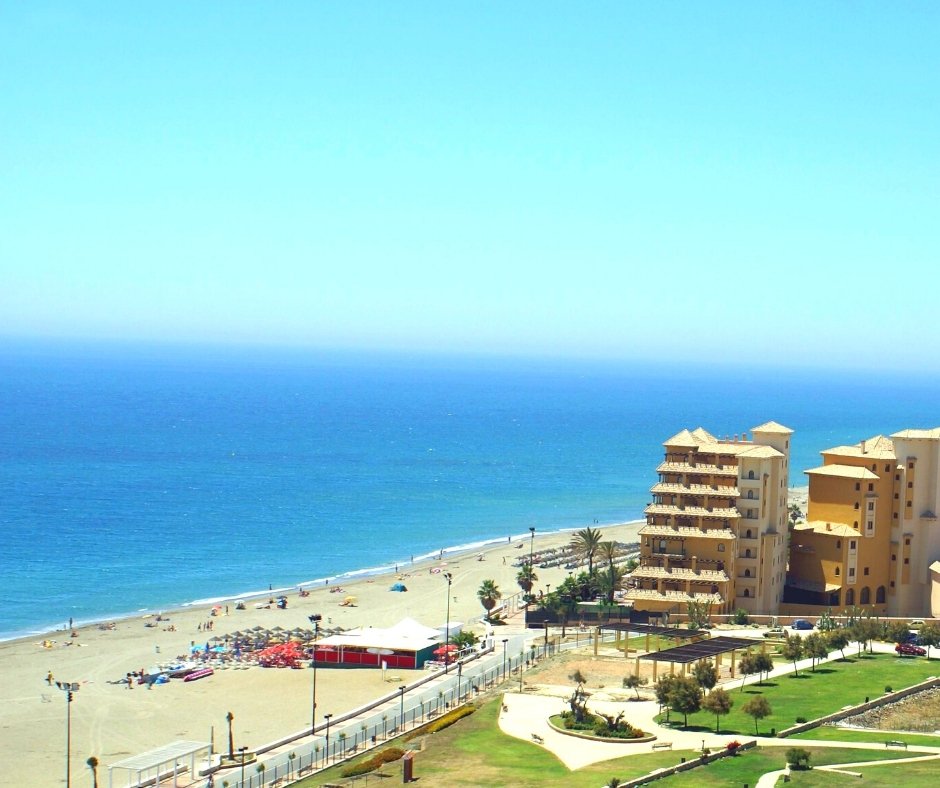 Playa San Francisco, Playa de Torreblanca and Playa Los Boliches all merge into one vast expanse of sand and are connected by a long promenade flanked by hotels and holiday apartments. All three beaches offer sun loungers and umbrellas for rent along with non-motorised water sports equipment. For jet skis motorboats and larger watercraft, you need to visit the marina next to Playa San Francisco.
If you are looking for a quieter beach, head just south of town to Playa El Bombo and while it is next to the main road linking Fuengirola to Marbella there is something here for both young and old.
If you have small children the beaches in Fuengirola tick all the right boxes for safe family fun.
Benalmádena
Best known for its beautiful beaches and lively nightlife, Benalmádena is perfect for people who seek action-packed adventure while also looking for a little bit of history and local flavour.
With 10 kilometres of beaches to choose from that range in style from tiny secluded coves to family-friendly beaches with plenty of activities. There is a beach for everyone in Benalmádena.
Playa La Carihuela
Always busy with plenty of going on Playa La Carihuela leaves nothing wanting. There are public toilets, showers lifeguards on duty and two children's playgrounds.
A promenade runs alongside the beach filled with restaurants to suit all budgets and tastes, plus if you forget your sunscreen or towel you can always buy something rather than have to return to the hotel. On the beach itself, you have several chiringuitos that metamorphose into trendy cocktail bars once the sun goes down.
Playa Malapesquera
Located right next to the marina, Playa Malapesquera is a large urban beach with all the facilities you would expect to find at a town centre beach. The beach is very wide as you get close to the marina with plenty of space available even in the height of summer.
Playa de Arroyo Hondo
Almost completely enclosed by a hotel that shares its name Playa de Arroyo Hondo has been given a prestigious blue flag for its cleanliness and the quality of the water. The beach is watched over by lifeguards during the summer and has pedal boats for hire and plenty of loungers and parasols for rent.
Marbella
With a reputation as being a playground for celebrities and the well to do, many people shun holidaying in Marbella as they feel it may be too expensive. Yes, there are fancy restaurants, glitzy clubs and designer boutiques but if you visit Marbella and go out and about like a local it's no more expensive than other Costa del Sol resorts.
Playa de la Fontanilla
For the real Marbella feel you have to visit Playa de la Fontanilla in the centre of town. Backed by a wide promenade awash with palm trees this is the place to see and be seen. Despite not having any facilities for children Playa de la Fontanilla is popular with families due to the way the beach slopes gently into the water. If however, you are looking for a place where the kids can run riot head to Playa del Faro where you will find great play areas.
Playa del Faro
With a large children's play area shaped like a ship, you can let the children run wild while you work on your tan. Backed by a promenade full of shops and places to grab a bite to eat this urban beach might not be as fancy as other Marbella beaches but ticks all the right boxes for families on a budget. If you feel like a bit of excitement the marina next to the beach hires out jet skis and offers banana boat rides.
Playa de Puerto Banús
Puerto Banus may be the place where the rich moor their mega yachts, but it's definitely not where they go to laze on the beach. Designated a blue flag beach for its high standards the highlights on this beach include a park at the end of the promenade and a huge water slide that the kids will love. Avoid the beach bars as they tend to be on the expensive side and instead buy snacks and cold drinks from a kiosk on the promenade.
There are so many beaches that I need to list, but hopefully this small handful will give you an idea of the cleanliness and quality that you can expect. This small selection should also help you to observe some of the great variety to Spain's coastline and help you choose where to spend your next beach holiday.